17 February 2021
Let's get started with pulled... pork, beef, chicken, salmon and jackfruit
The most delicious variations on the classic pulled pork are collected in this special recipe special.
A good pulled dish, such as pulled pork or pulled beef, is so tender that you can easily pull it apart. BBQ pulled pork is a true classic and one that can be perfected, of course, on your Big Green Egg. This special recipe section has the recipe for the ultimate pulled pork prepared on the Big Green Egg. When you get the hang of it, you can then start on pulled beef, pulled chicken, pulled salmon and pulled jackfruit.
Pulled pork, the classic version
This true American BBQ classic is usually made with boneless pork neck or pork shoulder. In America, they use the Boston Butt, a cut that consists of the pork shoulder, the shoulder blade and the neck. Here, we also see more pulled pork being made with Boston Butt. All of these parts make it suitable to make pulled pork due to the fat content and the structure of the meat. The doneness of the meat ensures that the muscle fibres become so tender that you can easily pull it.
The preparation of pulled pork is rather standard, but there are plenty of ways to make variations. For example, if you or your guests are not fans of the characteristic smoke flavour, then you can simply omit the smoking part. As a result, the smokey flavour of your pulled pork is less intense. Or, for example, for an even juicier result, brine the meat first for 24 hours before cooking it on your Big Green. In this case, use a rub without salt since the brine already contains salt. Pulled pork is often served on a roll with coleslaw . If you are a true carnivore, then the pure pulled pork with white coleslaw is just as delicious! And should you have any leftovers, then you can use the rest of the pulled pork as filling for homemade croquettes.
Pulled beef, a real must try!
When you think of stewed meat, your first thought is the traditional, slowly cooked beef or a delicious stew. Of course you can also make this on your Big Green Egg, but in this special, we use stewed meat for the preparation of pulled beef. For this low and slow technique, you can use, among other things, beef neck or a piece of blade steak. Short ribs are also often used to make pulled beef, although their higher cost makes them less interesting. Always choose meat from grain-fed cattle for making pulled beef. This meat has better marbling of fat than meat from grass-fed cattle, so the final result will be extra tender. If you want to serve the pulled beef in a different way, then allow the meat to cool without pulling it. Then slice the meat into cubes and bake them with some finely chopped garlic, sambal and soy sauce at 190°C in a skillet so that the meat caramelises. The inside of the cubes is then deliciously tender and the outside has a nice bite. Sprinkle the cubes with thinly sliced spring onion and you have a tasty and surprising snack.
Pulled chicken, all-time favourite
An important trick in this recipe for pulled chicken with baked potato is that you remove the juicy skin from the chicken after it is cooked and before you pull the chicken. Of course, you do not throw away the skin. Cut the skin into small pieces and mix them in with the pulled chicken for an extra delicious result! You can also choose to cook your chicken on the Ceramic Poultry Roaster  or Beer Can Chicken Roaster. When you place this in a Skillet filled with potatoes and onions, the roasting juices will drip into the pan. The juice gives the potato mixture a fantastic boost! Serve it with the pulled chicken or mix in a spoonful of mayonnaise for a delicious potato salad. If you want to serve something different with your pulled chicken, then this spicy apple compote is a perfect match. And if you have any pulled chicken left over, then use it as a filling for mini pulled chicken rolls by simply replacing the chopped meat in sausage rolls  with the pulled chicken. Or just make some extra pulled chicken in advance because you may not have any left over.
Pulled salmon: variation on smoked salmon
Do you like making smoked salmon but want to try a fun variation? Pulled salmon is not only very tasty but is also very quickly prepared. Soaking the grilling plank for 30 minutes takes longer than the preparation itself. When you make pulled salmon with sweet and sour vegetables, you can already make the sweet and sour vegetables the day before. When you want to switch it up, then you can marinate the salmon in beet juice instead of the piccalilly in the recipe. Or use cod or skate wing instead of salmon. The cod flakes beautifully and skate wing has a fine, stringy structure. With these types of fish, maintain a somewhat higher core temperature of approximately 65°C. Pay close attention that the fish does not become overcooked. Meat is often more forgiving, but fish can very quickly become dry. Always bring fish slowly to the proper core temperature so that it remains nice and juicy. Serve the pulled salmon lukewarm or at room temperature. If you want to serve something extra with it so you have a complete meal, then bake some delicious brioche rolls  in advance.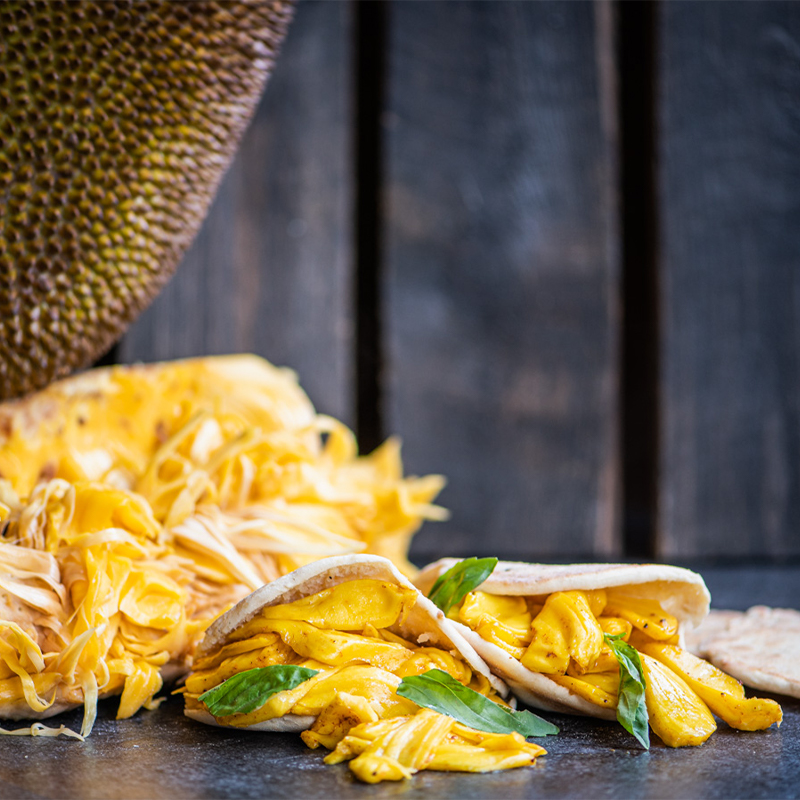 Pulled jackfruit, go vegan!
Jackfruit is a perfect meat substitute and therefore an ideal ingredient when you want to make a delicious vegan meal on the Big Green Egg. It is healthy and nutritious and due to the structure of the fruit and the fact that the flesh absorbs the flavour of the other ingredients, it is, among other things, a nice basis for a pulled jackfruit pita. You can use ripe, fresh jackfruit but also young jackfruit or tinned ripe jackfruit. The fresh, yellow jackfruit is sweet and juicy and requires less preparation time than the neutral tasting green, young jackfruit. Tinned young jackfruit must always be rinsed well before preparation. It is preserved in salt water, which can otherwise provide an undesirable effect on the flavour. When you use the flesh from a fresh jackfruit, then pluck the pieces of flesh from the skin. You are actually already pulling the flesh before the preparation. Note that you do not use the tough membranes; about 30% of the jackfruit is usable flesh.
NEWSLETTER
If you'd like to receive the most delicious recipes by email, register for our newsletter 'Inspiration Today' and add more flavour to your inbox. That's all you have to do to receive the latest news about events, recipes especially for your EGG, practical tips and much, much more!
REGISTER
THE BIG GREEN EGG COMMUNITY
Let yourself be inspired and learn to do more with your Big Green Egg! Submerge yourself in a world full of culinary possibilities. Ask your questions and share your experiences via Facebook (biggreeneggeu) and Instagram (biggreeneggeu). Tag @biggreeneggeu, use the hashtags #TheEvergreen and #forevergreen and get featured! We create beautiful memories. Are you in?
ARE YOU IN?