Grilled green asparagus with raw ham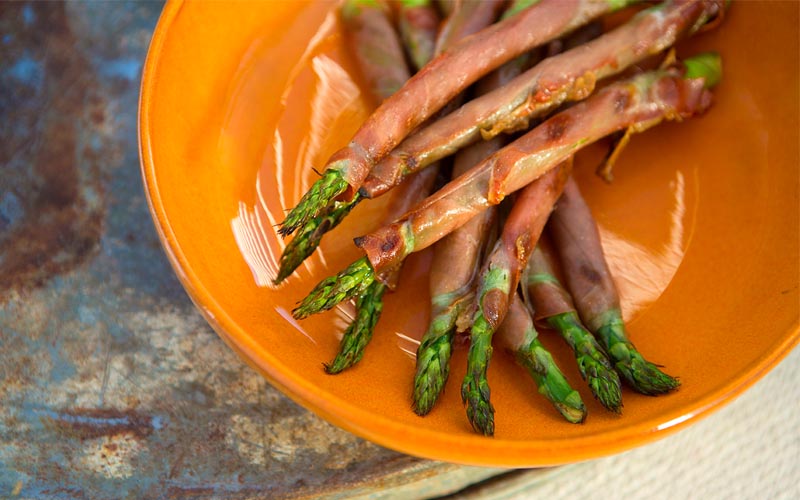 Green asparagus is a great vegetable to cook in the Big Green Egg. You can grill or stir-fry them and they combine easily with most types of meat, poultry and fish. The only preparation required is the removal of the somewhat hard ends of the asparagus. They cook fairly quickly, which means they will be ready to eat in hardly any time at all. For this recipe, the asparagus is wrapped in raw ham, which adds a bit more zest to the taste and enables you to serve a delicious and complete bite or snack prepared from only two ingredients.
For the asparagus
8 green asparagus
8 slices raw ham
PREPARATION
Ignite the charcoal in the Big Green Egg and heat, with the Cast Iron Grid, to a temperature of 220°C.
Meanwhile, remove the hard ends of the asparagus. Wrap a slice of raw ham around each asparagus.
Place the wrapped asparagus on the grid of the Big Green Egg. Close the lid and grill for about 2.5 minutes. Turn the asparagus over and grill for another 2.5 minutes.
Remove from the grid and serve immediately.

Inspiration Today
If you would like to receive your dose of inspiration by e-mail, then register for our monthly newsletter Inspiration Today and add some more flavour to your inbox. That's all you have to do to receive the most delicious recipes, inspiring seasonal menus, practical tips and much, much more!
Sign up