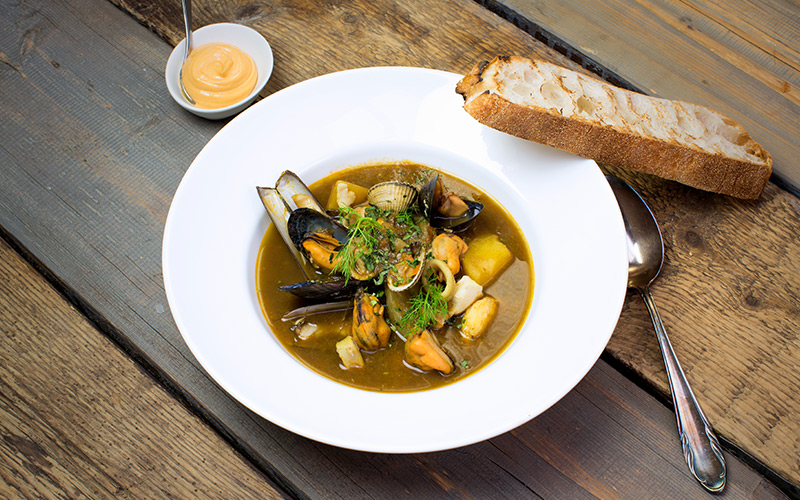 The Big Green Egg is not only suitable for complex cooking techniques, but for easy meals too. Ignite your EGG and start your preparations. You will have a delicious meal on the table before you know it, such as this tasty bouillabaisse, for example, which is a well-known French fish soup from the Provence.
For the bouillabasse
200 g cockles
200 g razors shells
400 g mussels
200 g squid, gutted and cleaned
200 g cod loin
2 onions
5 cloves of garlic
3 potatoes
1 fennel bulb
1 tbsp. olive oil
a few threads of saffron
1 l shellfish stock
Sambuca or Pernod
corn starch
2 sprigs of tarragon
1 ciabatta
1 jar of aioli
PREPARATION
Heat the Big Green Egg, with the Cast Iron Grid, to 170°C. In the meantime, wash the shellfish in salted water and drain. Cut the squid into rings. Remove the skin from the cod and slice the fillet coarsely. Peel and mince the onion and garlic. Peel the potatoes, cutting them into chunks and cut the fennel into segments (retain some fronds as a garnish).
Place the Cast Iron Dutch Oven on the grid and heat a dash of olive oil in it. Start off the onion, garlic, potato and fennel. Add the saffron and douse with stock and Sambuca or Pernod to taste.
Close the EGG's lid and adjust the temperature to 110°C (leave the lid off the Dutch Oven so the bouillabaisse gets that delicious grilled flavour). Cook gently for 30 minutes.
Stir some corn starch through the soup with a whisk until the desired consistency has been achieved. Add the shellfish, the cod and the squid rings. Close the EGG's lid and continue to cook for approx. 10 minutes until the shellfish open up. Whilst waiting, finely chop the tarragon and slice the ciabatta.
Take the Dutch Oven off the EGG and grill the ciabatta. Serve the bouillabaisse on plates and garnish with finely chopped tarragon and fennel greens. Serve with ciabatta and aioli.

Inspiration Today
If you would like to receive your dose of inspiration by e-mail, then register for our monthly newsletter Inspiration Today and add some more flavour to your inbox. That's all you have to do to receive the most delicious recipes, inspiring seasonal menus, practical tips and much, much more!
Sign up