Lemon cakes with ricotta crème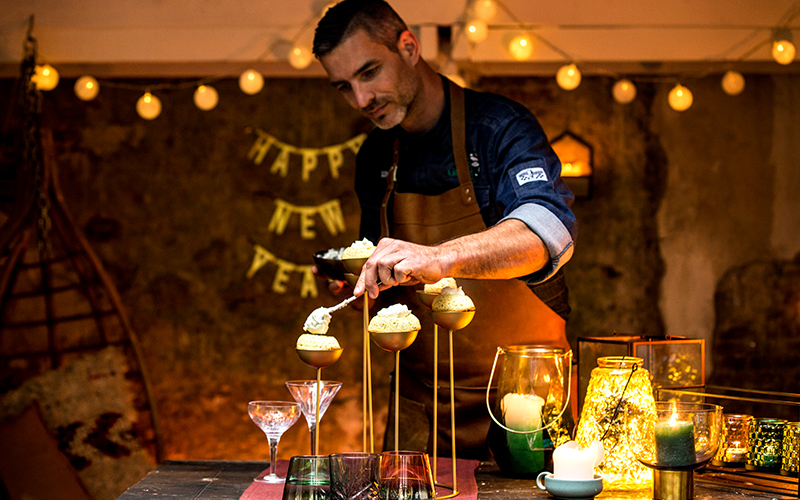 If you want to bake a cake on the Big Green Egg, this cake recipe is a great choice! The cakes are incredibly delicious and easy to make, and the best part is that you are baking the lemon cakes in cake tins for one. This makes them delicious appetizer snacks. Make them ahead of time and serve them at room temperature, or lukewarm if you just baked them.
CAKES
75 g soft butter
300 g sugar
3 eggs
1 vanilla pod
2 unsprayed lemons
3 tbsp. poppy seeds
300 g ricotta
250 g flour
12 g baking powder
PREPARATION IN ADVANCE
Light the charcoal in the Big Green Egg and heat, with the convEGGtor and the grid, to 180°C. Grease 2 silicone tins for 6 muffins with baking spray or butter.
In the meantime, beat the butter with 250 g of the sugar until airy. Beat the eggs and mix in, one by one.
Cut the vanilla pod lengthwise and scrape out the seeds above the bowl. Grate the zest from one lemon above the bowl, cut the lemon in half and squeeze out the juice above the bowl too. Add the poppy seeds and beat until everything is well mixed. Then add 250 g of the ricotta, the flour and the baking powder and mix until the batter is even.
Distribute the batter over the greased muffin tins with a spoon.
PREPARATION
Place the muffin tins on the grid and close the lid of the EGG. Bake the cakes for around 10-12 minutes until done.
In the meantime, mix the remaining 50 g of ricotta and the 50 g of sugar. Grate the zest from the second lemon, cut the lemon in half and squeeze out the juice over it. Mix well.
Remove the tins from the EGG and leave the cakes to cool slightly. Take them out of the tins and scoop some ricotta crème onto each cake.

Inspiration Today
If you would like to receive your dose of inspiration by e-mail, then register for our monthly newsletter Inspiration Today and add some more flavour to your inbox. That's all you have to do to receive the most delicious recipes, inspiring seasonal menus, practical tips and much, much more!
Sign up