Figs with goat's cheese and coppa di parma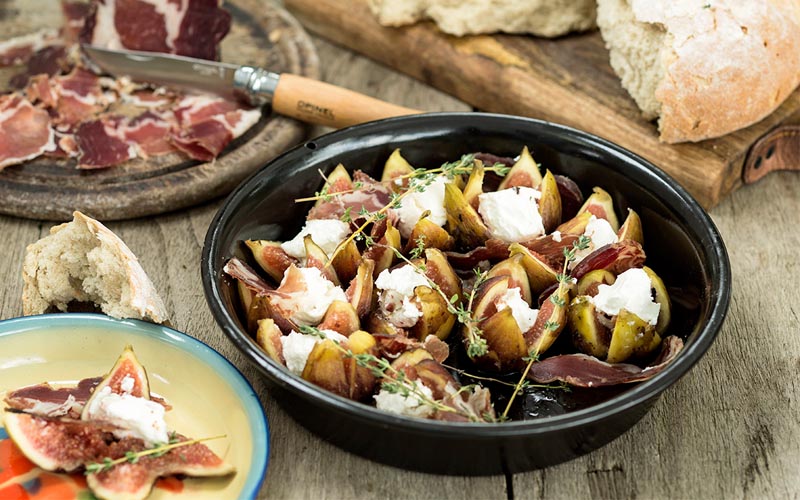 Can't wait to eat tapas prepared on the Big Green Egg, but don't want to spend too much time in the kitchen? Not a problem! It only takes a moment to prepare this recipe for figs with goat's cheese and coppa di Parma. You can make all the preparations in advance while the Big Green Egg heats up and once you're done, all you need to do is briefly warm the tapas.
For the figs
12 ripe figs
100 g soft goat's cheese
12 slices of coppa di Parma
50 g liquid honey
8 sprigs of thyme
PREPARATION
Ignite the charcoal in the Big Green Egg, place the Stainless Steel Grid and heat to a temperature of 150 °C.
Deeply slice the figs crosswise, from the top, making sure to not cut them all the way through. Open the figs slightly and place them in the Round Drip Pan.
Break the goat's cheese into 12 pieces and place a piece of cheese in every fig. Place the slices of coppa di Parma between the figs in the Drip Pan and sprinkle the figs with the honey. Sprinkle the sprigs of thyme over the top.
Place the Drip Pan on the grid of the EGG and close the lid. Heat for ca. 8 minutes until the figs are warm and the cheese has melted.

Inspiration Today
If you would like to receive your dose of inspiration by e-mail, then register for our monthly newsletter Inspiration Today and add some more flavour to your inbox. That's all you have to do to receive the most delicious recipes, inspiring seasonal menus, practical tips and much, much more!
Sign up