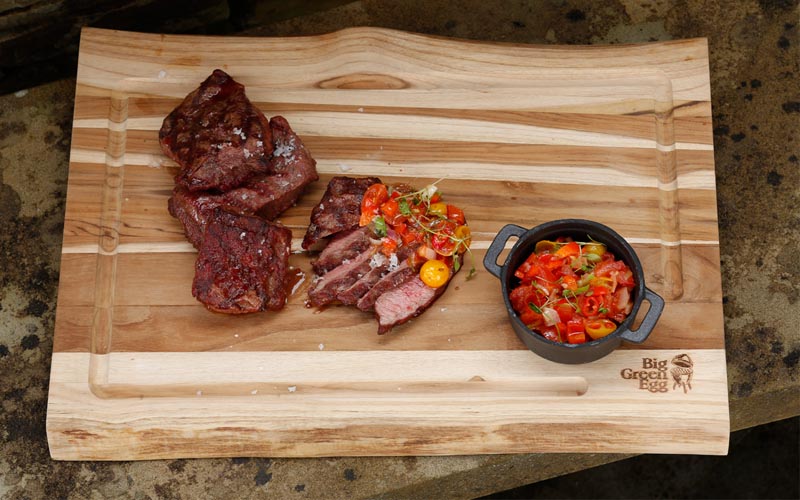 Blade steak is particularly well known in the supermarket, where it is portioned vertically. In this recipe, we prepare the whole blade and we do not stew the meat. We will however grill it for 10 to 12 minutes on the Big Green Egg. We will use Irish beef for the blade, which is delicious, excellent-quality beef that is produced traditionally.
For the blade steak
1 whole (Irish) blade steak
PREPARATION
Heat the Big Green Egg, with the Cast Iron Grid, to 240-250°C. A whole blade contains a tough sinew and hard fat layer in the middle. With a sharp knife, cut the blade horizontally right above this middle layer and remove the sinew and the fat layer, leaving two flat halves of meat. Trimmings can be used for a stew or the gravy. Slice each part vertically in half, creating four steaks.
Grill the blade steaks 5 to 6 minutes per side, turn them a quarter turn halfway through the cooking time in order to get nice grill marks. Remove the steaks from the grid, let them rest a few minutes and season to taste with pepper and salt. Serve with, for example, a salsa of grilled pepper, finely sliced onion, one half minced chilli pepper, yellow and red cherry tomatoes and finely chopped fresh coriander. Season the salsa to taste with white wine vinegar, olive oil and pepper and salt.

Inspiration Today
If you would like to receive your dose of inspiration by e-mail, then register for our monthly newsletter Inspiration Today and add some more flavour to your inbox. That's all you have to do to receive the most delicious recipes, inspiring seasonal menus, practical tips and much, much more!
Sign up