07 June 2023
Power on the EGG with Shirma Rouse
Soul food from the Big Green Egg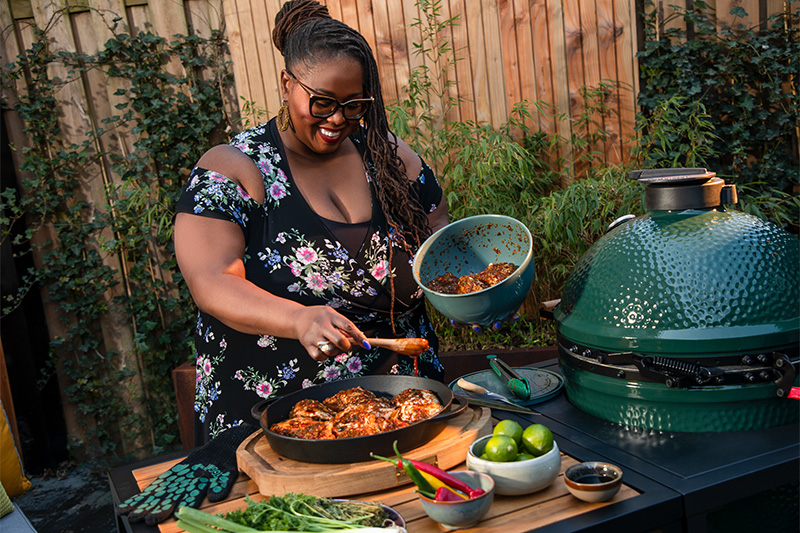 Shirma Rouse is the queen of soul in the broadest sense of the word,as a professional and highly successful singer and coach, as well as in the kitchen. Soul food? That's what this cheerful Antillean lady cooks in her Big Green Egg twice a week, time permitting. Welcome to Shirma's Soul Kitchen!
What does soul food mean to you?
'For me, soul food is food that moves you, just like soul music. Many people associate this type of music with black people, but I believe any music that moves me is soul music. The same applies to soul food. People often associate this term with high-carb, fatty and deep-fried, often American dishes, but in my opinion, it doesn't have to be that way. It's soul food if it makes you feel good.'
In your view, what do music and cooking have in common?
'It's like I said before, you can move people with music and with food too. They both involve a kind of chemistry. Shirma's Soul Kitchen represents a combination of music and food. They both run in the family; we have inherited so much love for both of them. Eating is also a time for our family to come together. And when we cook together, we complement each other effortlessly. It's the same with music. My father was a musician and played jazz and soul music. My little brother is a bass player and one of my grandfathers was a well-known saxophonist.'
Is there anything in common between creating a dish and writing a song?
'100%! Fennel, for example, is almost never eaten in Caribbean cuisine. So, I like to combine a vegetable like fennel with Caribbean flavours and give it a tropical twist. I did this by coating the fennel with a marinade of pineapple, pomegranate and a bit of dill and then grilling it. The fennel has a bitter taste, the pineapple makes the flavour sweeter and the pomegranate provides a freshness. Before you try it, you're curious about how it will taste. The same is true when I write a song. You're curious to know what it will sound like. And both deal with emotions. You feel that with music, but also when you take a bite of a dish.'
You also host dinner shows in which you combine food and music. How did you come up with the idea for this?
'My love for both has always been there and, I thought, how nice would it be if I could combine my singing career with food? The dinner shows started on a small scale in my hometown of Rotterdam over 10 years ago and proved to be a success. I cook the dinner together with a few family members. At the moment, I'm too busy for the dinner shows, but I'll definitely bring them back.'
2021 also saw the publication of your first cookbook, Shirma's Soul Kitchen. Why did you decide to collect your recipes in a book?
'I was regularly asked for my recipes, but making a cookbook takes a lot of time. Because I mainly cook by eye, I never measure or weigh anything. So, I had to test the dishes first to determine the quantities. During the coronavirus pandemic, I finally had time for this. My first book features my favourites, my family's dishes. On 18 June, my second book, Shirma's Soul Kitchen Part 2 – Food For Thought, will be published. The book contains low-carb, healthy, but very tasty, recipes and explains how to break habits in light-hearted way. By breaking a habit myself and starting to eat a low-carb diet, I lost 60 kilograms. It's all about balance, because it's also important to enjoy yourself. Lasagne, for example, is just as delicious with slices of courgette instead of lasagne sheets.'
Which ingredients can you absolutely not do without?
'Garlic and onion. I always have a supply of them at home. But I also want herbs and spices within easy reach at all times. Because of my culture, I use a lot of dried ingredients, such as garlic and onion powder. That's a tradition, because in the old days fresh ingredients would go off quickly due to the heat on the Antilles. Fresh herbs are available there nowadays and my parents who live on St. Eustatius have all sorts of things growing in their garden.'
Speaking of flavour, you cook on your Big Green Egg very regularly. What makes it so special in your eyes?
'My father was a real barbecuer, and my brothers now as well. Both my grandmothers also often cooked outside. One grandmother frequently cooked in a Dutch oven and the other had a brick oven outside in which she baked bread, among other things. So, growing up I learnt about outdoor cooking and everyone would come to our home to eat. I have fond memories of that. But what makes the Big Green Egg itself so special is that it gives dishes more flavour. I can make a dish in the oven, but in the Big Green Egg that same dish has something extra special. I also love playing with flavours, for example, by smoking ingredients. Many people don't know how many cooking techniques are possible with a Big Green Egg. You can do so much with it!'
On what occasions do you like to light the charcoal in the Big Green Egg?
'The other day was my pianist's birthday, so I grilled 15 kilograms of chicken. And in February, for example, I hosted a New Year's get-together for my band and I cooked for them. I really enjoy doing that. To me, my band members are like family. I love them. If I don't love someone, I can't work with them. When I throw a party, I often cook outside as well. Finally, while we're chilling together, I'll bake a delicious cake in the EGG. The Big Green Egg is also a very nice addition for such moments. And recently, my sister was in the mood for spare ribs. So I just made her some, it's as easy as that.'
For our readers, you made jerk chicken and cornbread in your Big Green Egg. Are these your favourite dishes?
'Yes, these are two of my favourite dishes, which are delicious when served together. They are also both in my first book, but in the book, you learn how to make these recipes in the oven. I enjoyed demonstrating that you can make these recipes in the Big Green Egg as well. The cornbread is a very easy recipe and the jerk chicken is quintessentially Caribbean, so it suits me very well. I fried the chicken in the skillet this time instead of roasting it to show how versatile the Big Green Egg is.'
Are you curious to try Shirma's soul food cooked in the Big Green Egg? In these recipes, Shirma explains how you can make two of her delicious dishes at home in your own EGG.
NEWSLETTER
If you'd like to receive the most delicious recipes by email, register for our newsletter 'Inspiration Today' and add more flavour to your inbox. That's all you have to do to receive the latest news about events, recipes especially for your EGG, practical tips and much, much more!
REGISTER
THE BIG GREEN EGG COMMUNITY
Let yourself be inspired and learn to do more with your Big Green Egg! Submerge yourself in a world full of culinary possibilities. Ask your questions and share your experiences via Facebook (biggreeneggeu) and Instagram (biggreeneggeu). Tag @biggreeneggeu, use the hashtags #TheEvergreen and #forevergreen and get featured! We create beautiful memories. Are you in?
ARE YOU IN?